Dear friends and community members,
With great enthusiasm and commitment, Clare Facio Legal joins in the invitation to a unique and exciting occasion: the Charity Gala organized by ADIT and the Launch Party of Tamarindo's new Community Awareness Campaign, Live the Endless Summer!
This is not simply a gala; it is a call to action. The campaign aims to generate positive, proactive and preventive actions to raise awareness about the problems that affect our society and at the same time seeks to continue with the development actions of our beloved and beautiful Tamarindo in order to bring our coastal town and international tourism destination to the level of development it deserves. Your participation can make a difference.
When?
This August 19, 2023 from 5:30pm until 12:00 noon.
How to participate in the Gala? 🌟
1. Buy your tickets online. Get your tickets by clicking on the button below.
(https://aditamarindo.org/event/live-the-endless-summer/#tribe-tickets).
2. Pick up your tickets at the following locations:
* Pangas Beach Club
* Swiss Captain
* La Oveja
* Lobster Bistró
* La Barrica (Flamingo)
Don't miss this opportunity to be part of a significant change in our community. ADIT needs your support, and at Clare Facio Legal e Inmo we are proud to be at the forefront of this cause.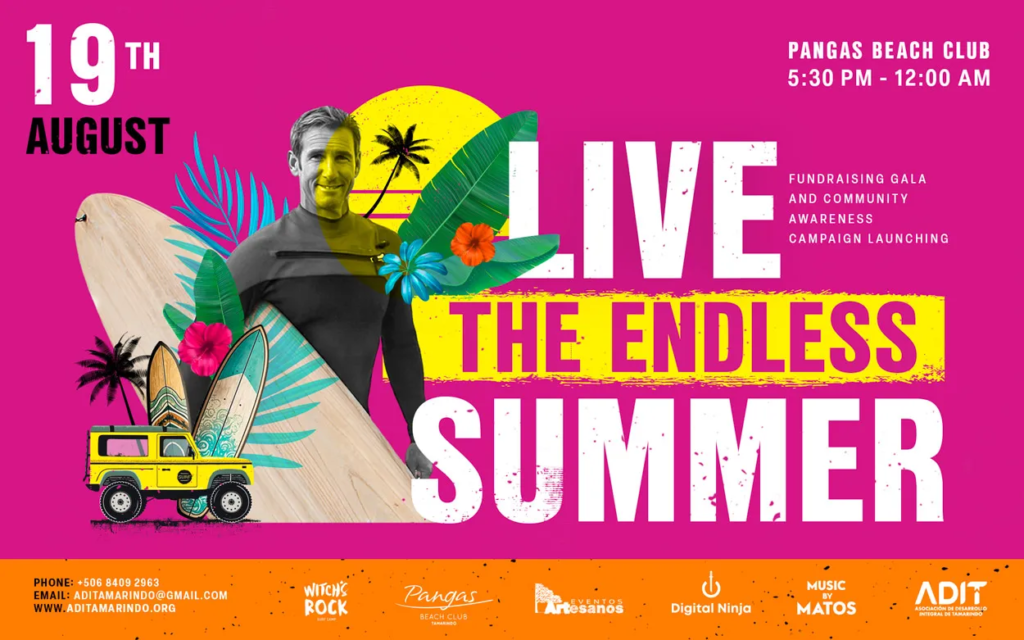 We look forward to welcoming you to this unique event.
About ADIT.
ADIT is the Association for the Integral Development of Tamarindo. A non-profit community group whose objective is to unite the multicultural community of Tamarindo and promote its infrastructural, economic, social, cultural and environmental development.
ADIT generates and maintains projects for neighbors and infrastructure development in the area.
Some of ADIT's projects.
Calle Langosta Sidewalks – ADIT Playa Tamarindo (aditamarindo.org)
Calle Langosta – ADIT Playa Tamarindo (aditamarindo.org)
Soccer Academy – ADIT Playa Tamarindo (aditamarindo.org)
Public Space Beautification and Cleaning – ADIT Playa Tamarindo (aditamarindo.org)
Tamarindo Lifeguard Program – ADIT Playa Tamarindo (aditamarindo.org)
SoSafe – ADIT Tamarindo Beach (aditamarindo.org)
See you at the Gala!
Invites
Clare Facio Legal.